Sewage Backup Cleanup in Northern Virginia
Sewage backup poses significant dangers to both your property and your health. It can introduce harmful bacteria, viruses, and contaminants into your environment, creating a hazardous situation that needs to be addressed promptly and effectively. At 911 Restoration of Northern Virginia, we understand the urgency and seriousness of sewage backup situations. Our team is trained to handle the dangers associated with sewage backups and provide quality and fast services to restore your property to a safe and clean condition.
Immediate Steps to Address Overflowing Toilets and Sewage Spills
When facing an overflowing toilet or sewage spill, quick action is crucial. Firstly, shut off the water to prevent further overflow. Avoid contact with the sewage as it can be hazardous to your health. Then, call 911 Restoration of Northern Virginia for immediate assistance. Our team is equipped to handle such emergencies, ensuring your property is restored promptly and safely.
When it comes to sewage backup, there are a few important things to know. First, sewage backup can occur due to various reasons such as clogged pipes, tree root intrusions, or sewer line malfunctions. It is crucial to understand the signs of sewage backup, which may include foul odors, slow drains, gurgling noises in the plumbing system, or sewage backups in toilets, sinks, or floor drains. If you notice any of these signs, it is essential to take immediate action and contact professionals for assistance.
Full-Service Sewage Backup Cleanup
At 911 Restoration of Northern Virginia, we provide a comprehensive range of sanitization and cleanup services to address the aftermath of sewage backup incidents. Our services include sewage extraction, thorough cleaning and disinfection of affected areas, odor removal, and proper disposal of contaminated materials. We utilize advanced equipment and industry-approved techniques to ensure effective sanitization and restoration of your property. Our team is committed to delivering quality services with a fast response time, minimizing the risks associated with sewage backup and ensuring your safety.
Sewage Backup Cleanup Services in Northern Virginia:
Sewage extraction and cleanup
Thorough cleaning and disinfection of affected areas
Odor removal and deodorization
Air duct cleaning and purification
Carpet and upholstery cleaning
Hoarding cleanup
Post-construction cleanup
Odor and stain removal
Tile and grout cleaning
If you are in need of professional sewage backup cleanup services after a sewage backup, don't hesitate to contact us. Our team is equipped with the necessary expertise and equipment to handle sewage backup incidents effectively and efficiently. Take action now to protect your property and ensure a clean and safe environment.
Understanding Sewage Backup: Causes and Prevention
Sewage backup is a distressing issue for any property owner. Typically, it occurs when your property's sewage lines get blocked, leading to an overflow of commodes and sewage pipes. Common causes include clogged pipes, tree roots invading sewer lines, or even city sewer malfunctions. Preventing such incidents involves regular maintenance of your sewage system and being mindful of what you flush down your toilets and drains.
Professional Sewage Cleanup Services by 911 Restoration of Northern Virginia
At 911 Restoration of Northern Virginia, we specialize in sewage clean out and restoration. Our trained professionals use the latest equipment to efficiently clean up sewage spills under houses and address commode overflow situations. We focus on thorough sanitation to ensure your property is safe and clean, providing you a Fresh Start after such distressing incidents.
Avoiding Sewage Backup Scenarios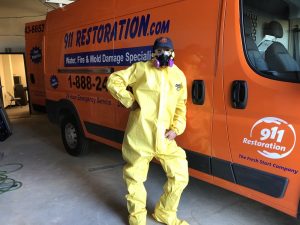 At 911 Restoration of Northern Virginia, we understand the importance of avoiding sewage backup scenarios and the potential risks they pose to your property. Sewage backups can result in significant damage, health hazards, and unpleasant odors. That's why we're here to provide you with expert advice and services to help you prevent sewage backup incidents and maintain a clean and safe environment in Northern Virginia.
One of the key steps in avoiding sewage backup is regular maintenance of your plumbing system. Our team can assist you in identifying potential issues such as clogged drains, tree root intrusions, or aging sewer lines that could lead to backups. By conducting routine inspections and implementing preventive measures, we can help you mitigate the risk of sewage backups and ensure the smooth operation of your plumbing system.
Let Our Experts Handle Sewage Cleanup For You
When it comes to sewage backup cleanup services in Northern Virginia, 911 Restoration of Northern Virginia is here to provide reliable and professional assistance. Dealing with a sewage backup can be a hazardous and overwhelming situation, posing risks to your health and property. Our team understands the urgency and importance of addressing sewage backup promptly and effectively while maintaining great communication and delivering quality services.
Clear and open communication is a fundamental aspect of our approach to sewage backup cleanup. We understand that sewage backups can be distressing, which is why we prioritize listening to your concerns and keeping you informed throughout the entire process. Our team will work closely with you, providing detailed explanations of the cleanup process, the steps we will take to remove sewage, and the necessary repairs or restoration needed to ensure a safe and clean environment. We believe that transparent communication is essential in building trust and ensuring your peace of mind during the sewage backup cleanup process.
Quality Sewage Backup Cleanup Services
At 911 Restoration of Northern Virginia, we are proud to hold IICRC certifications in sewage backup cleanup. This certification reflects our commitment to following industry standards and utilizing the best practices in sewage cleanup. Our team of experts has undergone extensive training and possesses the necessary expertise to handle sewage backup situations. We employ advanced equipment and proven techniques to remove sewage, sanitize affected areas, and restore your property.
If you are in need of professional sewage backup cleanup services, don't hesitate to contact 911 Restoration of Northern Virginia. Our team is dedicated to providing great communication, quality services, and IICRC-certified expertise in sewage backup cleanup. Take action now and schedule a consultation to address your sewage backup concerns.
Sewage Remediation for Commercial Properties in Fredericksburg, VA
Commercial properties in Fredericksburg, VA, can also suffer from sewage problems. Our team is experienced in handling large-scale sewage remediation, whether it's a backed-up sewer line or a basement shower drain backing up. We understand the unique challenges faced by businesses and are equipped to minimize disruption to your operations.
The Cost of Sewage Backup Cleaning: Transparent Pricing
Concerned about sewer backup cleaning cost? At 911 Restoration of Northern Virginia, we believe in transparent pricing. The cost can vary depending on the extent of the damage and the cleanup required. However, we provide clear estimates and work with you to find the best solution within your budget.
Health and Safety: Prioritizing Your Well-being in Sewage Cleanup
Your health and safety are our top priority. Sewage can carry harmful bacteria and viruses, posing significant health risks. Our team follows strict safety protocols during the cleanup process, ensuring that every sewage drain backing up is dealt with effectively and safely.
Your Fresh Start After Sewage Disasters: Our Commitment
We understand the emotional toll of property damage. That's why, at 911 Restoration of Northern Virginia, we don't just clean up the mess; we help you through the entire process, offering a positive attitude and compassionate support. Our goal is to turn a negative situation into a Fresh Start for you and your property.

Call Today for Immediate Assistance: Facing an urgent sewage problem? Call us now for immediate assistance.
911 Restoration is located at 1130 International Parkway, Unit 111, Fredericksburg, VA 22406. Give us a call 24 hours a day at (571) 367-0646. We are proud to serve our local communities and the surrounding Northern Virginia areas!