Understanding Virginia's Weather Cycles & Disaster Restoration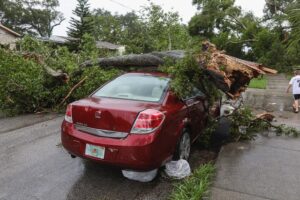 Climate change has resulted in extreme weather events worldwide becoming more common, and things are no different in Virginia. The state faces many potentially devastating weather events, including winter storms, tornadoes, hurricanes, floods, and earthquakes. According to the Federal Emergency Management Agency (FEMA), the risk of disasters is higher in Virginia than in most other U.S. states. In this article, we're going to discuss Virginia's history of disasters, the type of extreme weather events the state faces, and the need for disaster restoration should the worst happens.
Virginia's History of Extreme Weather Events
Over the years, Virginia has faced several natural disasters, including wildfires, tropical storms, floods, landslides, tornadoes, and earthquakes. FEMA estimates that there have been 67 major disasters in Virginia between 1953 and 2019. Since then, there have been more devastating disasters, including the remnants of Hurricane Ida, a Category 4 Atlantic hurricane that then developed into a tropical storm.
This is primarily because of Virginia's location along the East Coast. It is vulnerable to coastal storms such as tropical storms and cold season storms. Additionally, its middling location makes it a hotbed for polar and tropical airmasses, making storms more likely.
Types of Extreme Weather Events Virginia Experiences
From landslides and hurricanes to wildfires and landslides, Virginia is vulnerable to natural disasters and extreme weather events. The following are some of the weather events that you can expect in the state.
Winter Storms
Winter storms in Virginia consist of blizzards, heavy snowfall, and freezing rain, and can cause extreme damage to your property. In 2010, Virginia experienced the North American Blizzard, a dangerous winter storm that affected multiple  states. In addition to killing 2 people in Virginia, the storm also killed more than 40 other people.
Landslides
Rockslides, landslides, and debris flows are common in Virginia and result from natural disasters and manmade events. This includes storms, heavy rainfall, mining, corrosion, and more. The mountainous topography makes Virginia more prone to landslides, with the state experiencing a major landslide every 10 to 15 years. After Hurricane Camille in 1969, Virginia saw one of its worst landslides to date.
Wildfires
Another scary possibility is that of wildfires. With 24 designated wilderness areas that cover more than 215,000 acres, this is extremely dangerous. Increased building in wilderness-urban areas, casual debris burning on residential properties, and climate change are the primary reasons for wildfires.
Earthquakes
Virginia isn't as prone to earthquakes as other extreme weather events, but these are still possible. This is because the state lies between two seismic zones, the Central Virginia Seismic Zone and the Giles County Seismic Zone. In addition to natural earthquakes, Virginia can also face earthquakes that result from underground digging and mining.
One of the worst earthquakes seen in the state occurred in August 2011. This 5.8 magnitude earthquake was felt as far as Canada and affected 22 other U.S. states. In addition to damaging residential properties and infrastructure, it also caused injuries.
Tropical Storms
Hurricanes themselves aren't common in Virginia but tropical storms and tropical depressions are. While these are less severe than hurricanes, they can still cause significant property damage, including storm surges, heavy rainfall, gusty winds, flooding, tree falling, etc. Virginia experiences at least one tropical storm every year. Additionally, while the state is more prone to tropical storms, hurricanes make their way through, with Hurricane Camille in 1969 being the worst it has experienced.
Tornadoes
Tornadoes aren't as common in Virginia as other disasters, but they're still a danger you should prepare for. They occur throughout the state, with Virginia being the 29th most-affected state in the U.S. for tornadoes. On average, Virginia experiences 6-7 tornadoes every year.
Floods
From severe storms and rapid snowmelt to dam debris and ice jams, Virginia is prone to damage from flooding. The state experiences many different types of storms and has four major rivers and more than 2,900 dams, which make flooding a likely outcome.
Call 911 Restoration of Northern Virginia for Disaster Restoration Services
If you live in Virginia, you and your property are at risk for injury and damage. With 63% of Virginia's residents living in "StormReady" areas, this is a high probability. While you can take precautions and prepare for storms and other disasters, the unthinkable can always happen, and you must be prepared to deal with the aftermath. Knowing how to deal with extreme weather events can help you reduce property damage, but some damage is an eventuality.
We understand that dealing with extreme weather events can be scary and overwhelming. That's why 911 Restoration of Northern Virginia is there to guide you through the entire disaster restoration process. Our specialists have a guaranteed 45-minute response time, allowing us to begin emergency restoration as soon as possible. We also make sure to take care of insurance claims and paperwork, so you're not left overwhelmed.
We also know that these things happen unexpectedly, and emergency services are required at all times. That's why our IICRC-certified technicians are available 24/7. Call us at (571) 367-0646 or contact us here for more information.