Which Appliances to Cover During a Storm to Prevent Storm Damage?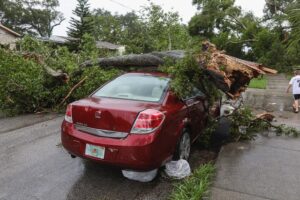 The 2023 hurricane season is expected to pick up the pace and be in full flow by the start of July this year. Hurricanes and storms can be pretty tough to deal with. Besides the financial burden they bring on those affected, they can be emotionally troubling as well to recover from.
Most hurricanes are often accompanied by severe thunderstorms, which can pick up pace with time to become a very big problem. Lightning and severe rain can bring electrical hazards with them, which have the capability to damage electrical appliances and properties inside of your home.
Lightning doesn't necessarily have to strike your home to cause damage to your electrical appliances. In fact, a lightning strike near the main power line in your area can cause a severe power surge in the flow of electricity. This power surge usually means that there is a serious flow of electricity coming in with the potential to damage your electrical appliances.
In this article, we take a look at some of the tips you can follow to cover your appliances during a storm to prevent storm damage. We also look at the appliances you should cover up to make sure that the damage from the storm is limited and doesn't grow into a severe problem.
Appliances to Cover 
Storms can bring water damage as well, which is why you must cover your electrical appliances to minimize the damage coming from lightning and extra water. For starters, you should get a plastic sheet to cover your electrical appliances. Keeping a towel or a cloth on top of the appliance can stop dust from coming in but will barely work when you are trying to prevent water damage to the appliances. Plastic coating can ensure that all water is kept out and nothing is really allowed to seep in. 
You should also keep in mind that the following electrical devices should be protected and covered conveniently using the best tools:
Toasters 

Heaters 

Television 

Computers 

Desktop PCs

Laptops 

Refrigerators 

Air conditioners 

HVAC systems 

Generators 

Mobile phones 

Coffee makers 

Blenders 

Dishwashers 

Microwave Oven
All of the above appliances should be covered in plastic wrap to keep away water from seeping into the electrical components of the appliance. Additionally, you should hang an extra plastic sheet on top of your main power switch. The additional coverage will help minimize water damage on the main switch. 
Tips to Protect Electrical Appliances from Storm Damage 
You can take the following tips to prevent water damage to your electronics in case of an electric surge or problem: 
Unplug all Devices 
The best technique you can follow to save your devices from power surges is to unplug them before a severe storm arrives. Lightning strikes near the main power lines can cause massive surges, which is why you are best advised to turn the switch off and take the plug out. Unplug your devices and key appliances so that the power surge isn't an issue at all. 
Covering all your appliances with plastic sheets can help stop water from seeping in, but if you want power surges to stay at bay, then it is recommended that you unplug all devices immediately. 
Install Surge Protectors 
Of course, lightning and storms can strike even when you are away from home. Imagine you are at a friend's house and a lightning strike around the main power line causes a power surge that eventually damages all appliances connected to a socket at that point in time. Of course, someone would argue that it is good to unplug all devices before you walk out of the home, but we believe a better course of action is to install surge protectors. 
You can use point of use electric surge protectors to make sure that all electric units are protected and there is nothing that can damage them. The grounded electric units and appliances should have a power surge protector, which helps make sure that the power input and voltage are regulated before they reach the power component in your electric appliances. 
Install a Lightning Protection System in your Home 
Homeowners in areas where lightning strikes and power surges are common can install a lightning protection system in the form of a surge protector in the main switch. A power surge protector installed between the main electric meter outside your home and the main service panel inside your home can protect you from unnecessary surges caused by lightning strikes. 
Adding one single power protector in the right position will protect all appliances in one go and will make sure that you don't have to add power regulators for each different appliance. Prioritize your time and get a convenient solution through this addition. 
Protecting your electric appliances during a storm can be a tough job to manage. 911 Restoration of Northern Virginia is just a call away for you! You can get in touch with us to perform damage restoration after a storm or other natural disaster. 
If you are experiencing residential water damage or commercial property damage. Call one of our IICRC certified specialists today.