Mold Removal Prince William County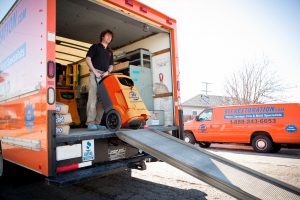 A mold infestation may not come crashing into your life as loudly as most other forms of property damage, but even the smallest patch of quiet growth can cause costly destruction. Not to mention, your quality of life may take a hit if you leave mold to spread throughout your home or business.
Unfortunately for property owners in Prince William County, mold is an ever-present threat. Heavy precipitation and cold temperatures frequently lead to water damage, whether it's a leaky roof, sewage backup, or flooded basement. In turn, water damage leads to mold growth, especially with the aid of muggy Virginia summers.
On the plus side, local property owners also have quick and easy access to a reliable, compassionate mold removal company.
911 Restoration of Northern Virginia is staffed by IICRC certified technicians who take every case personally. You can count on these mold remediation experts to handle your infestation thoroughly, from inspecting every square inch to dehumidifying the structures of your property after mold removal to discourage future growth.
The specialists of 911 Restoration are happy to step in anytime you suspect mold removal is needed. They also include mold inspection as part of full water damage restoration service, recognizing that mold is nearly inevitable after a surface has been left damp for more than 24 hours.
Your dedicated mold remediation team knows that even a minor mold infestation can interfere with the peace you feel on your own property. Growth is unsightly and can even cause health issues such as allergies, headaches, and dizziness. 911 Restoration exists to not only remove the mold, but to totally restore the health of your home or business.
If you have a mold-infested property in Stafford, Spotsylvania, Woodbridge, or the surrounding community, call 911 Restoration of Northern Virginia and let our mold remediation staff make your space feel better than new.
Stafford's Certified Mold Removal Company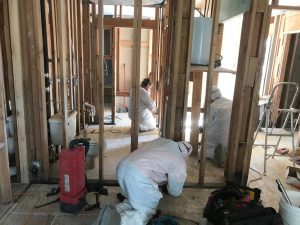 Whether you discover slimy mold in your pipes, a colony creeping its way along your drywall, or a moldy smell rising from the carpet, one thing is absolutely certain:
You need an IICRC certified staff to handle mold decontamination.
Mold is a complicated organism. It cannot be conquered by household cleaners, it can survive harsh conditions, and it reproduces rapidly. When disrupted by human interference, mold releases spores into the air which can then spread to other areas of your home. More toxic varieties such as a black mold can even threaten human and pet health by releasing mycotoxins. These mycotoxins can be taken into your body through respiration and lead to health issues ranging from allergies to heart problems.
In other words, there is a lot at risk when it comes to mold removal. Working with certified professionals is non-negotiable.
The expert staff at 911 Restoration operate with your safety in mind from initial mold inspection to the actual procedures of mold removal. They do their best to protect you by discouraging colonies from returning. They won't leave your property until they know the affected surfaces have been fully dried with professional equipment. Any remaining dampness means an infestation is likely to rise again, potentially creating new risks to both your health and property. Your dedicated mold cleanup team eliminates this risk.
At 911 Restoration of Northern Virginia, we believe a mold infestation is an opportunity to start fresh, fortifying your property against future growth by resolving both the problem itself and the cause.
If mold is threatening the health of your home or business, contact 911 Restoration today and let our staff make your property a source of pride once again.
Third-Party Mold Testing
Your peace of mind is everything to us. That's why the mold remediation technicians of 911 Restoration offer a free visual mold inspection for property owners and follow up any mold discovery with third-party testing.
When your mold cleanup staff finds mold on your property, they deliver a sample of it to a third-party lab. The lab then examines the sample and reports their findings. This way, as the mold decontamination team moves forward with a solution, you know every decision is guided by unbiased, scientific information.
Because mold can pose such varied threats to both health and home, many property owners feel overwhelmed going into the mold remediation process. It's hard to guess the risks associated with your own unique infestation, and it can be difficult to trust the information of a service provider you don't know. The mold removal specialists at 911 Restoration want to ease your worries and provide clear answers with fully transparent practices and third-party testing. They take time to answer every question, examine every scenario, and talk through every option.
A mold infestation can feel daunting. But with the right mold removal experts on your side, you'll see how today's inconvenience can lead to tomorrow's Fresh Start. Call 911 Restoration of Northern Virginia today, and get ready to breathe easy once again.
Servicing the cities of Dumfries, Fredericksburg, King George, Occoquan, Port Royal, Quantico, Rappahannock Academy, Stafford, Triangle, Woodbridge, Woodford, and surrounding areas.