Water Damage in Prince William County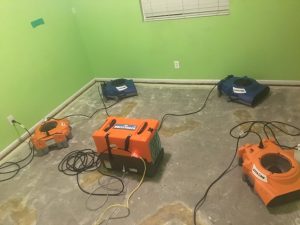 Residents and business owners in Prince William County have it made most of the time. Between rich local history and 4,000 acres of parklands, life is pretty good in this area of the country. The only downside? Storms and freezing temperatures that ravage local properties with water damage, as well as a muggy summer climate that turns water damage into mold infestations.
Yes, property owners in Stafford and the surrounding area have to be on high alert for threats to their home or office. Fortunately, when water damage does hit, they have a great ally right next door.
911 Restoration of Northern Virginia is on call 24/7/365 to help with any water damage emergency. Has a pipe burst sent water spraying into your commercial property? Is your basement flooded? Is there a sewage backup in your home?
No matter what you're going through, our highly trained technicians will be at your door to handle it within 45 minutes of your phone call. Every member of the staff is IICRC certified in water damage restoration and mold remediation. They extract the flood water, dehumidify the structures of your property, repair all damages, and follow up with mold inspection and remediation.
For added relief, you can even count on your friendly water damage restoration experts to go over the insurance process with you. They make sure you understand your coverage so there are no surprise expenses. They even help file a claim, so you know you'll get every benefit you're entitled to.
This isn't our technicians' first time around a property water disaster. They know what you're going through, and they know what's at stake. That's why you can count on truly compassionate service from experts who know how to make the best of a bad situation.
Contact 911 Restoration of Northern Virginia today, and get ready for today's disaster to become a vague memory.
Emergency Basement Water Cleanup
As a company that prioritizes your peace of mind, 911 Restoration emphasizes immediate response first and foremost. When your basement is flooded, you can't afford to wait around for assistance. For every minute water lingers on your property, the risk of permanent damage increases.
The water damage restoration specialists at 911 Restoration move fast to minimize your damages and save you costly repairs down the line. They also take care to pack out and store every one of your undamaged belongings to prevent additional harm. Flood cleanup includes comprehensive service at top speed, as experts work to extract the water, dry all structures, and inspect surfaces for permanent damage. They repair whatever destruction they find, whether it's harm done to your drywall, your flooring, or your carpet. They also perform emergency leak repairs, storm repairs, boarding up, and roof repair, all in an effort to cut off the problem at its root, ensuring today's disaster never has to happen again.
When you choose 911 Restoration, you can be sure your water damage needs will be addressed from beginning to end. The water damage restoration staff believes in leaving your property in better-than-new condition, turning this disaster into an opportunity for a new beginning.
Contact 911 Restoration of Northern Virginia for a Fresh Start.
Expert Mold Remediation In Stafford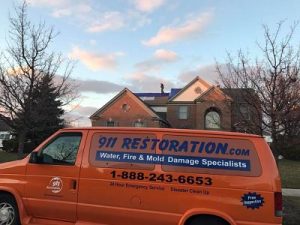 One of the greatest threats of water damage is mold contamination. It only takes 24 hours of exposure to moisture for mold spores to create a full-blown colony. Those mold infestations can cause structural damage and they can be harmful to both you and your pets.
That's why 911 Restoration technicians follow water damage remediation with mold inspection. They search for mold in every dark and hidden crevice. If they find an infestation, they remove it.
If you suspect you have mold growth in your home or business, it's important that you call in an IICRC certified company like 911 Restoration to remove it. Many people are tempted to handle mold remediation themselves. It's an understandable instinct. Oftentimes, household cleaners and a sponge can appear to do the trick. You should know that complete mold decontamination requires professional tools and expertise. Not to mention, a mold remediation specialist can recognize a toxic variety of mold and remove the growth without spreading an excess of toxins into the air.
From flooded basements to pipe bursts to mold remediation, you can count on 911 Restoration to make your property feel like the safe haven it once was. Call today and breathe easy.
Servicing the cities of Dumfries, Fredericksburg, King George, Occoquan, Port Royal, Quantico, Rappahannock Academy, Stafford, Triangle, Woodbridge, Woodford, and surrounding areas.