Water Damage Restoration in Northern Virginia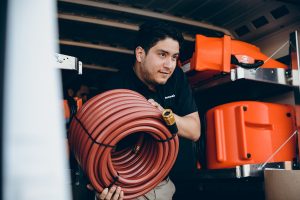 Water damage can be devastating to your home, especially in Northern Virginia. The climate can be temperamental, and many seasonal changes come with the potential for disasters. Heavy rains and snowstorms in the winter can lead to floods and lingering water, which may damage your property. No one wants to live in a home that has been ravaged by water or afflicted with mold, nor should you have to.
911 Restoration of Northern Virginia makes sure that your house and property are returned to normal after damage. We provide expert water damage restoration services in Northern Virginia, mold removal, mold remediation, and more. If you're in need of flood cleanup, or if you simply want a mold inspection, reach out to us today. We send a technician to your home immediately within 45 minutes to assess the damage and determine a plan to move forward.
Our company serves all of Northern Virginia, including Woodbridge, Fredericksburg, and Triangle. If you're in need of water damage restoration, call 911 Restoration of Northern Virginia- the company you can trust to give you a Fresh Start. so contact us today at 571-367-0646
Consequences of Water Damage
Water can cause extreme damage to houses, vehicles, yards, and more. During seasonal rains, water may get backed up and flood the streets. It can even flood basements and cause pipes to burst from being overworked.
When flooding occurs, you'll find that your lawn and yard may be fully covered in water. Your plants may drown and you will probably need to replace soil and grass. Your basement may have a few inches of water on the floor, which can damage furniture and ruin anything vital you keep in storage. Wood flooring may warp and expand, and eventually crack or become unstable.
If water damage is not dealt with immediately, you also face the consequences of mold. Mold can cause various respiratory injuries, headaches, and dizziness, especially over a period of time. It can be very difficult to get rid of the fungus as well, and without expert mold removal services, your home may never be free of it.
Finding mold can be hard. It likes to proliferate in dark, humid areas, and you might not even be able to identify the infestation, save for a mildewy odor. Eradicating mold is even harder if you lack the necessary tools.  Please call us at 571-367-0646
Mold Decontamination in Northern Virginia
Our mold remediation Fredericksburg VA and mold removal Fredericksburg VA experts are available 24 hours a day, 7 days a week. If you suspect that your home is infested with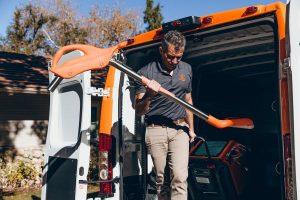 mold because of water damage, contact us at once. We will send one of our staff to your home to conduct an inspection. Generally, we disinfect
your basement floor or other areas, extract water, clean up sewage, and prepare the house for mold remediation.
During the mold removal process, we dehumidify your structure, cleanse the home, repair carpeting, and more. We ensure that no moisture is stored anywhere in the home and that the chances of a mold infestation in the future are greatly diminished.
At 911 Restoration of Northern Virginia, we believe in being meticulous and thorough in our flood damage restoration services. A house must be safe for those living in it, from you to your children to your pets, and mold presents a danger to everyone inside. Your safety is of paramount importance to us.
We Serve Your Water Damage Needs
911 Restoration of Northern Virginia is locally owned and operated, and we pride ourselves on our rapid response times and same day services for anybody in Woodbridge, Fredericksburg, and the surrounding areas. Our IICRC Certified technicians are licensed, insured, and bonded, and we provide you with professional mold inspection and sampling to determine the extent of the issue. We work with all insurance companies so that you do not have to worry about high
out-of-pocket expenses.
Our goal is to protect your home. We're a team that cares about and understands your needs, and we break down every part of the process for you and practice total transparency. Our highly trained technicians will provide you with peace of mind and give you a free visual inspection (for property owners only).
Let the best water damage restoration company in the nation help you with returning your house to normal. Call 911 Restoration of Northern Virginia at our number 571-367-0646 today for 911 restoration complaints and more.
Serving the communities of Woodbridge, Aylett, Stafford, Fredericksburg, King George, Dumfries, Glen Allen, Triangle, Woodford, Henrico, Quantico, Mechanicsville, Occoquan, Ashland, Richmond City County, Prince William County, Stafford County, Spotsylvania and surrounding areas.