Mold Removal Northern Virginia
Fungus infestations are one of the most ubiquitous forms of loss that homeowners everywhere experience, and when encountered, it takes trained and expert mold removal Woodbridge professionals like ours with 911 Restoration Northern Virginia to be removed properly.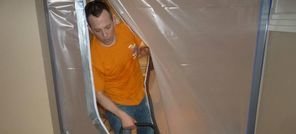 Our specialists know that one of the most forward-thinking ways of making sure that a mold growth scenario doesn't escalate is to be at the scene quickly and with the proper technology to do the job right.
Knowing this, our experts make sure to arrive within 45 minutes of every emergency call that we receive so that we can get straight on top of the situation at hand.
Moreover, we are also always available 24/7/365 for whatever kind of catastrophe you find yourself in because we truly care about the people and homes they live in for this area.
Beyond our ability to bring the latest drying technology and the most sophisticated suction equipment to the site of your dilemma, we are also totally dedicated to professionalism at every turn.
If your home is already suffering from a fungal outbreak of some sort, then be sure to contact our mold removal Woodbridge team with 911 Restoration Northern Virginia today!
Preventing Mold And Fungus Is Easy
When a mold contamination takes over a home, or even part of it, our expert mold removal Woodbridge technicians are the first call that many people make to alleviate the crisis.
But our specialists are also the first call that huge swaths of homeowners make when they want to learn how they can prevent such instance too.
Here are some simple mold prevention methods:
Whenever you have a spill make sure that you clean it up immediately and that you don't have any stagnant or standing water laying around that might end up being a haven for mold growth.
Try to check on the areas of your home or property that might get regularly wet like under the sink, or near sump pumps and other water devices. If you spot mold, call us immediately.
If you have rooms that get humid regularly try to ventilate them by opening up a window. If this doesn't make the humidity go down, then place a dehumidifier in the room to extract excess water.
Use a cleansing agent such as bleach after major spills to eliminate the chances that an errant mold spore landing in the area can begin to grow.
Never try and remove a mold growth yourself or you may end up causing the situation to get worse and spread mold spores to other areas of the property.
These are some of the more common ways that mold can contaminate a home, and how to prevent them, but this list is not final. So if you have questions about things not listed here, then be sure to give us a call for more information.
Don't let your home or office location suffer from the effects of a fungus outbreak alone. Contact our mold removal Woodbridge team with 911 Restoration Northern Virginia and let our specialists solve all of your fungal needs today!
Specifics Of Mold Removal Work
When it comes  to the challenges of a mold removal job, the experts with 911 Restoration Northern Virginia are the most qualified and highly trained for the job.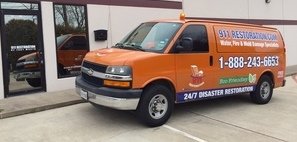 Our technicians will get to the site of your emergency as fast as is possible, and when we get on-site we will immediately proceed with sealing off the affected area so that mold can migrate to the rest of your home and cause issues there.
A vapor barrier is a solid method for keeping mold immobilized, and we make every effort to ensure that all spores are below the threshold for contamination.
In addition to eliminating your fungus infestation, we will also be able to identify the source for the issue and solve that as well.
So if you have a pipe leak that caused the mold colony to form, we can fix the pipe and kill the mold so that the smell it produces will be gone forever.
If your home is already stinky with the unmistakable smell of mold, then don't let it get any worse before you call our mold removal Woodbridge experts with 911 Restoration Northern Virginia today!