Mold Removal in Richmond City County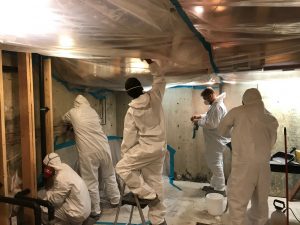 Northern Virginia is the proud home of thousands of beautiful properties. Welcoming homes. Historical structures. Shops and offices maintained by visionaries and entrepreneurs. But with the heavy moisture brought on by winter and spring and the hot, muggy climate of summer, all these great properties are uniquely vulnerable to the sneakiest form of property damage:
If you own property in Richmond City County, odds are, you will also need mold removal in Richmond City County sooner or later. Mold spores need only 24-48 hours to go from tiny organism to unsightly growth. This means any moisture lingering in your home or office—whether it's a sewage backup or just condensation under the bathroom sink—can lead to a mold infestation.
When this happens, call 911 Restoration of Northern Virginia for mold cleanup.
Every one of 911 Restoration's mold removal specialists is IICRC certified and has been thoroughly trained in mold inspection and mold decontamination. They have the expert skills necessary to uncover even the sneakiest infestation, and they have both the insight and equipment to handle mold removal quickly and carefully.
If you think your property might have fallen victim to mold, don't wait another minute to contact a mold remediation specialist. The growth may seem harmless, but it can cause serious damage to the surface that supports it, and it can pose a threat to your health.
911 Restoration is ready and waiting to take that threat away with professional mold cleanup. Call now for expert, caring service.
Mold Remediation After Basement Flood
Property water damage is one of the most common causes of mold. This is why mold can still thrive in colder seasons, despite its love of muggy weather. Frozen pipe bursts, a leaky roof, a toilet water backup…all these things can easily result in mold contamination.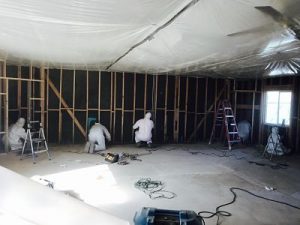 In fact, the water damage restoration crew at 911 Restoration includes mold inspection and mold decontamination part of their service. Because an infestation is an almost-inevitable side effect of water damage, they don't actually consider their work done until mold removal is completed.
It's also why they take great care in removing water from carpet and concrete. Any excess moisture can lead to mold growth. Carpet can be contaminated and ruined forever. Concrete absorbs water like a sponge, only allowing that moisture to surface later on and create a delayed mold problem.
Structural drying is key, and our technicians prioritize this step in both water damage restoration and mold decontamination. They use professional fans and equipment to ensure all dampness is gone, which means the threat of a repeat infestation is gone.
Mold cleanup doesn't always end with structural drying, however. Sometimes the mold has been there so long it's damaged the surface beyond repair. Our mold remediation experts are careful to scrutinize and test the structures of your home or business to ensure they're as sound as ever. If they're not, they'll repair the destroyed surface, so your property is as good as new.
If you've experienced water damage, don't wait until you catch that musty scent or discover a growth peeking out from under your woodwork. Call 911 Restoration for a mold inspection in Richmond City County, Spotsylvania, or the surrounding area.
Toxic Mold Testing In Richmond City County
Mold is unsightly. It can make your home or business smell like an aquarium. It can even weaken the structures of your property.
But the most important reason to seek mold remediation as soon as possible is your health.
Some varieties of mold can be highly toxic, and none of them are particularly great for you. You've likely heard of black mold, the infamously toxic type that releases mycotoxins into the air and creates toxicity within your body. If you find an infestation of any kind in your home, you don't need to panic. But you do need to call a certified mold cleanup company right away.
The mold removal specialists at 911 Restoration offer a free visual mold inspection for property owners. They'll discover your infestation wherever it's hiding, then extract a sample and take it to a third-party laboratory for testing. As always, your peace of mind is their first priority, and this scientific testing ensures you have a clear and unbiased picture of what your specific infestation means for you and your property.
When both you and your mold remediation specialists know exactly what type of mold you're dealing with, they'll approach mold decontamination with careful expertise.
Just the thought of toxic mold can make any property owner feel suffocated in their own home or business. We promise you, that feeling won't last long.
For mold remediation in Richmond City County, call 911 Restoration. Our friendly technicians will give you a Fresh Start and the freedom to finally breathe easy.
Servicing the cities of Ashland, Aylett, Bowling Green, Crozier, Doswell, Dumfries, Fredricksburg, Glen Allen, Hanover, Henrico, King Georgie, Manakin Sabot, Mechanicsville, Midlothian, Milford, Occoquan, Port Royal, Quanitco, Rappahannock Academy, Richmond City County, Ruther Glen, Stafford, Triangle, Woodbridge, Woodford, and surrounding areas.