Mold Removal in Stafford County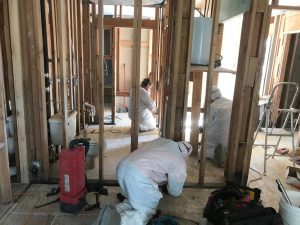 While most forms of property damage are immediately obvious and impossible to ignore, mold contamination is an insidious invasion, hiding out in dark corners and spreading across unseen surfaces. Mold growth is an especially notable threat to properties in Stafford and the surrounding communities. Between heavy rainfall and hot, muggy summers, local homes and businesses are especially vulnerable to mold infestations.
Fortunately, there's a local mold remediation expert you can turn to when you notice the slime in your pipes or the patch of mold in your basement. That expert is 911 Restoration of Northern Virginia.
Every one of our mold remediation technicians has achieved IICRC certification. They have been trained extensively in mold inspection, removal, and decontamination.
Moreover, 911 Restoration only welcomes staff members who work with your best interests in mind. The expert mold removal staff approach every job as if it were their own property. This means they offer a free visual inspection for property owners, searching as thoroughly as if it were their own structure and their own family's health at stake. They communicate with you along the way, answering every question you have and setting clear expectations for the work required to decontaminate your home or business. They remove mold with the utmost caution and take every step possible to make your property resistant to future growth.
911 Restoration of Northern Virginia knows how mysterious, unsightly, and ultimately stressful mold is. Our technicians work hard to remediate not just the mold itself, but your worry as well. Contact 911 Restoration today and hand the burden of mold cleanup over to us.
Removing Mold After Water Damage
Have you recently experienced a water damage incident in your property? Odds are decent you now have mold growing in your basement, carpet, or anywhere else within the structures of your home or business. This is especially true if water damage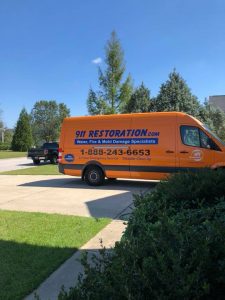 restoration was not handled by a full-service, IICRC certified mold removal company.
The specialists at 911 Restoration follow up every water damage incident with a free visual mold inspection for property owners. After all, if moisture lingers within the structures of your property for more than a day, that's all it takes for mold to transform from tiny spores into a rapidly spreading colony.
If the mold remediation experts discover growth, they take samples to a third-party laboratory for testing. This way, both you and the mold removal staff have an unbiased, scientifically sound understanding of the type of infestation you have. With this information on hand, your dedicated technicians approach mold cleanup in the manner most appropriate to your specific situation. They remove mold completely and follow up with structural drying and dehumidifying to prevent future growth.
At 911 Restoration, our goal is to provide total peace of mind by removing the mold and making your property as inhospitable to future growth as it possibly can be. The mold remediation staff want you to leave you with a property that's better fortified against contamination.
Contact 911 Restoration of Northern Virginia today and let mold removal experts make your property better than new.
Certified Mold Removal Company In Stafford
When many property owners discover mold in their home or business, their first instinct is to remove it themselves.
These property owners can hardly be blamed. Wiping out mold with a rag and a few household cleaners would be the dream scenario. Unfortunately, there are no truly effective home remedies for a mold infestation. In order to remove mold completely, you need an IICRC certified staff using professional tools.
Even more importantly, it takes a professional to guarantee a safe mold decontamination process.
As you likely know, certain varieties of mold can be highly toxic. Black mold is the most famous toxic variety. This type of mold releases mycotoxins into the air, which can accumulate in your body and lead to significant health issues.
When an untrained property owner attempts to remove mold themselves, they disrupt the mold colony, releasing an abundance of mycotoxins into the air and up into their own lungs. Less toxic varieties pose another type of risk, as aggressive scrubbing encourages the spread of mold spores. In other words, even if you could successfully remove mold in one area, the act of doing so heightens your risk of developing an infestation on another surface.
The mold remediation experts at 911 Restoration know how to account for all these challenges. They conduct mold cleanup with great care, minimizing the spread of toxins and mold spores. Additionally, they have structural drying tools to make sure all dampness is gone from the affected surface, eliminating the threat of repeat growth.
Don't wait to investigate that questionable spot in your bathroom or the musty smell in your carpet. Let the professionals at 911 Restoration give you answers, solutions, and peace of mind.
Call today for a Fresh Start.
Servicing the cities of Dumfries, Fredericksburg, King George, Occoquan, Port Royal, Quantico, Rappahannock Academy, Stafford, Triangle, Woodbridge, Woodford, and surrounding areas.