Water Damage and Mold Removal in Richmond City County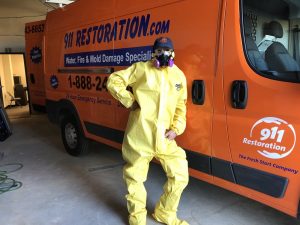 Northern Virginia is home to a lot of history and loads of charm, but this beautiful community is not without its downsides. From frigid winter temperatures that cause pipe bursts and basement flooding to spring tornadoes and the mold-causing humidity of summer, local properties are at constant risk of water damage.
Not to worry. If you own a home or business in Richmond City County, Spotsylvania, Woodbridge, or the surrounding community, you have 911 Restoration on your side.
911 Restoration of Northern Virginia is staffed by water damage restoration technicians who are IICRC certified, highly trained, and approach each job with compassion. From the moment you call, their number one priority is you. Your property. Your safety. Your peace of mind.
You see this in the response time of the water damage restoration workers. 911 Restoration is a 24-hour emergency water cleanup company. If you need water damage restoration in Richmond City County, you can trust that there are human beings ready to take your call 24/7/365. And no matter when you reach out, you can expect flood cleanup specialists to arrive in no more than 45 minutes. That's our promise.
Your water damage restoration crew will see to every aspect of your property incident. Water extraction, structural damage repair, even mold inspection and mold removal…they cover it all. A friendly staff member will even guide you through the insurance claim process, starting with a free insurance consultation, item loss and inventory, and claim filing.
911 Restoration works with every insurance provider, so you already know you can take advantage of expert service without the additional expense.
If you need water damage restoration or mold removal in Richmond City County, don't settle for half-hearted service from an underqualified team. Call the emergency water cleanup company that will treat you like the neighbor you are. Call 911 Restoration of Northern Virginia today.
Emergency Basement Flood Cleanup In Richmond City County
A property flood is like most problems in life: the longer you let it sit, the worse the damages will be.
However, unlike most problems in life, lingering flood water and structural moisture can lead to hundreds and even thousands of dollars in long-term damages.
The moral of the story: You need to act fast. And you can trust that the emergency flood cleanup staff at 911 Restoration will, too.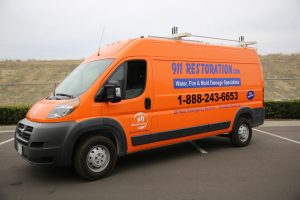 When they arrive, they offer a free visual assessment for property owners, so you have a solid understanding right away of the damages you are looking at. The crew moves fast to pack away vulnerable belongings, extract the water, and bring in fans for drying out the area. They know every second counts. More importantly, they care that every second counts, and they tackle your water damage as if it were their own.
911 Restoration also offers a range of emergency water restoration services. These include emergency boarding up, roof repair, storm repair, water extraction, and leak detection. They also follow flood cleanup with thorough repair and renovation. Sometimes standing water can cause rotting or weakness in the structures of your home. Your cleanup crew knows how to repair those structures so all surfaces are sparkling, sturdy, and sound.
They even offer mold inspection and mold removal as a defense against possible contamination resulting from the damages of your pipe burst or property leaks.
Whatever put you in this emergency situation, you can always count on 911 Restoration for reliable, urgent flood cleanup in Richmond City County. Call today, and let us give you the relief of a Fresh Start.
A Certified Mold Removal Company
Not-Very-Fun Fact: Mold spores only need 24-48 hours of exposure to a damp surface to get a full-blown mold colony going in your property.
This is why the staff at 911 Restoration is so serious about thorough water damage restoration. They work diligently to remove water from carpet, concrete, and flooring to minimize your risk of a mold infestation.
But sometimes, it's just too late. That's why our technicians are also certified in mold inspection and mold removal. They look over every square inch of the flooding site, inspecting walls, floorboards, and all the dark, damp places mold likes to hide. If their mold inspection reveals an infestation, they conduct careful, professional mold remediation.
Some varieties of mold are highly toxic. You never want to try to handle mold removal yourself or pass the job on to a company that isn't certified in mold remediation. Choose a crew like 911 Restoration of Northern Virginia…one that offers peace of mind with swift, expert mold removal.
From pipe bursts to mysterious growth, 911 Restoration is your ally in the battle against water damage. You never have to fight alone. Call today.
Servicing the cities of Ashland, Aylett, Bowling Green, Crozier, Doswell, Dumfries, Fredricksburg, Glen Allen, Hanover, Henrico, King Georgie, Manakin Sabot, Mechanicsville, Midlothian, Milford, Occoquan, Port Royal, Quanitco, Rappahannock Academy, Richmond City County, Ruther Glen, Stafford, Triangle, Woodbridge, Woodford, and surrounding areas.