Water Damage in Stafford County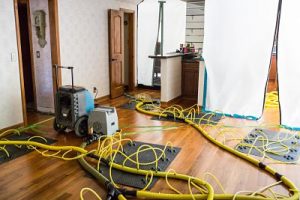 Northern Virginia is a beautiful place to live, but there's no doubt those frigid winters can wreak havoc on local properties. Frozen pipe bursts and ice dams both threaten homes and businesses with unexpected water damage. Not to mention, every property in any climate is vulnerable to standard property incidents such as ceiling leaks and sewage backups.
No matter what type of water damage has turned your castle into a dungeon, 911 Restoration of Northern Virginia is here to help.
911 Restorations offers emergency water damage restoration services to property owners in Stafford County, because we know that when water starts spraying into your basement at 1:00 in the morning, you can't afford to wait until business hours. Call us literally any time of day, any day of the year, and a human being will answer your call. Water damage restoration technicians will arrive within 45 minutes of your call, and that's a guarantee.
You can also be assured that your flood cleanup specialists are the best in the biz, each one of them highly trained and IICRC certified. They don't just know water extraction and structural drying. They also repair damaged flooring and drywall, and they are experts in mold remediation. This is because water damage and mold often go hand-in-hand…and 911 Restoration doesn't consider their job done until your home or business is in better-than-new condition. Every damage must be eliminated and repaired.
Even better, this expert service comes to you at an affordable cost. The flood cleanup technicians know what an unfair shock it is to discover gallons of water pouring into your property. They want to relieve as much of your stress as possible by working quickly to minimize damages and by helping you get the most out of your insurance. They work with you to make sense of your coverage and file a claim so you get every benefit you're entitled to.
Water damage can be devastating, but with a company like 911 Restoration on your side, you'll be able to put this incident in your past in no time. Call us today for fast and friendly service.
Emergency Water Damage Restoration In Stafford County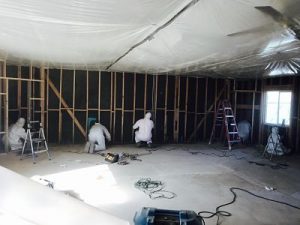 A flooded basement. A roof leak in the midst of a storm. A sewage backup in the middle of the night.
None of these situations can wait. So 911 Restoration doesn't wait, either.
When you call 911 Restoration, you can be sure technicians will be at your property within an hour. They won't waste a second in protecting your undamaged belongings, extracting standing water, and repairing the source of the problem. They even offer emergency storm repairs, boarding up, and roof repairs. Once all water has been removed, they dry the structure completely using professional fans. This step is essential to prevent future mold growth, and it takes a professional to know the difference between a structure that is truly dry and one that just seems dry to the touch.
If your flooring has been damaged, they tear it up and replace it. If your carpet is contaminated or your drywall destroyed, they handle those repairs as well. They inspect every structure to make sure it's still in top condition, because 911 Restoration isn't just about getting rid of the problem. We believe in fully restoring your property to its full health and former glory.
If you're in need of water damage restoration in Stafford, Spotslyvania, or Woodbridge, 911 Restoration is here for you. Call now for emergency service and real peace of mind.
Certified Mold Remediation
All too often, water damage results in mold infestation. Mold spores are constantly in the air, and it only takes 24-48 hours of contact on a damp surface for a spore to create a thriving mold colony.
When this happens, mold remediation is imperative. Mold may seem harmless, but it can cause damage to the structures of your property and create a hazard to your health. Some varieties such as black mold can be highly toxic, releasing mycotoxins into the air and ultimately into your respiratory system. A broad range of health issues can result. If you suspect you have an infestation of any kind, reach out to an IICRC mold removal company like 911 Restoration right away.
It isn't safe to handle mold remediation yourself, as disrupting a colony can spread spores and knock toxins into the air. Not to mention, household cleaners cannot effectively remove an infestation. This is why it's important to contact a professional and why 911 Restoration includes mold inspection with water damage restoration services.
The flood cleanup specialists inspect for mold, and if they find any, they send it out to a third-party lab for testing. Once they know everything they need to about your specific infestation, they handle mold decontamination and structural drying to prevent further growth.
911 Restoration believes in giving every customer a Fresh Start. This means going above and beyond to repair damages and remove the threat of future incident.
For true peace of mind, contact 911 Restoration of Northern Virginia today.
Servicing the cities of Dumfries, Fredericksburg, King George, Occoquan, Port Royal, Quantico, Rappahannock Academy, Stafford, Triangle, Woodbridge, Woodford, and surrounding areas.