Water Damage in Mechanicsville
Immediate action needs to be taken to deal with any disaster involving water appropriately. Otherwise, you may find yourself with mold, structural damages, and reoccurring water damage.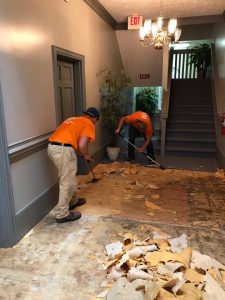 When customers work with 911 Restoration of Northern Virginia, they can expect prompt water damage restoration services no matter what time they need assistance.
The office is open 24/7/365 provide the Mechanicsville community with 24-hour emergency water cleanup for issues such as basement floods, sewage backups, water leaks, and pipe bursts.
Technicians guarantee to respond within 45 minutes of receiving your call and will provide property owners with a free visual inspection as soon as they arrive.
It is crucial to implement same-day, water damage restoration services to not only stop rusting, warping, and rotting, but to prevent mold from spreading throughout the property.
By hiring 911 Restoration of Northern Virginia, you will feel confident in the flood restoration process knowing that technicians will address both the water damage and mold.
Call the water mitigation professionals when your property is affected by a ceiling leak or a basement flood and technicians will administer water damage restoration in Mechanicsville today!
Proper Flood Cleanup Includes Mold Remediation
Floods can invade a property quickly, and whether it occurs from a pipe burst or an overflowing river, the water needs to be extracted as soon a possible to prevent permanent damage and mold.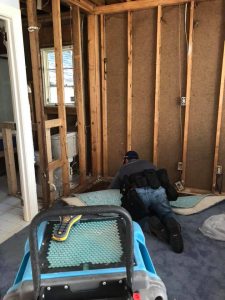 Our flood cleanup company is just as experienced in mold remediation as they are in water damage restoration, and their technicians have been in the industry for decades correcting both situations.
Technicians administer immediate flood cleanup services because they know that the longer the moisture sits on the surfaces of your property, the higher the likelihood is of a mold infestation from forming. 
Mold spores can begin growing within 24 hours of being exposed to moisture, making commercial and residential water damage cleaning imperative to preventing mold problems.
When water damage intrudes the lives of you and your family, call 911 Restoration of Northern Virginia, and technicians will make sure you receive flood cleanup in Mechanicsville today!
The Restoration Company That Cares About Their Community
The entire 911 Restoration emphasizes community outreach, and they routinely employ branch owners and technicians who share that same ideology.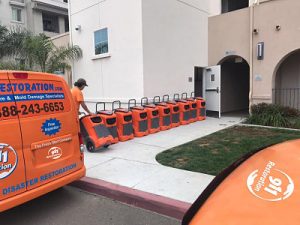 Excelling at customer service is what this team is known for, and the repair techs are eager to prove their dedication to the customers on every job they are on, whether it be through water damage restoration or moral support.
Many customers need to be supported through the insurance process, which is why our staff offers free insurance consultations to those who may need some guidance.
A team member will go over your insurance policy to help you understand the coverages that you are entitled to receive. It is important to us that your out-of-pocket expenses stay low, and we want to help make that happen.
Even if your insurance provider does not cover all of your repairs, you can rest assured that you are working with a restoration company that keeps their prices competitive and services affordable.
So, call 911 Restoration of Northern Virginia as soon as you experience a water disaster in your home or business, and you will be met by a team that cares and understands your needs.
Proudly servicing the cities of Ashland, Aylett, Bowling Green, Crozier, Doswell, Dumfries, Fredericksburg, Glen Allen, Hanover, Henrico, King George, Manakin Sabot, Mechanicsville, Midlothian, Milford, Occoquan, Port Royal, Prince William County, Quantico, Rappahannock Academy, Richmond City County, Ruther Glen, Spotsylvania, Stafford, Stafford County, Triangle, Woodbridge, Woodford, and the surrounding areas.