Commercial Water Damage Restoration in Northern Virginia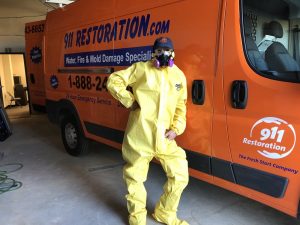 Commercial properties are an investment that you put a lot of time and work into. All of that labor can be threatened by a property disaster. Recovering from water damage, fire damage, and other property damage can be easier if you take immediate action. You need disaster restoration services from a company that knows how to handle the complicated nature of restoring a commercial property to pristine condition.
911 Restoration of Northern Virginia provides business owners with state-of-the-art disaster restoration services. We know that there isn't any time to waste after a flood or a fire, so we offer our clients around the clock care. Our IICRC certified technicians can reach your property in 45 minutes to get to work right away. We can take care of disaster cleanup for any commercial structure, including:
        Apartment Buildings

        Warehouses

        Malls

        Hotels
Our professional technicians have experience handling water damage restoration, fire damage restoration, mold remediation, and more. We make use of the newest restoration technologies to get your property back into working condition as soon as possible. You don't have to deal with water leaks, sewage backups, fires, and other emergencies on your own. We offer a free visual inspection for property owners so you can get immediate information about the state of your property and the steps we can take to repair any damage.
Water Damage Repair When You Need It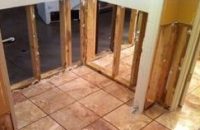 Water damage is one of the most insidious forms of property damage that we deal with. Frozen pipes sometimes burst in the winter. Plumbing problems can lead to a variety of leaks throughout your property, and large roof AC units can leak down into your buildings. You need help right away regardless of the cause of your water damage.
Our technicians can handle water remediation right away. We will remove the excess water from your property and ensure that more water does not continue to flood in. Once we have water removal taken care of, we can move on to water damage repair.
Water can severely damage walls, floors, and items stored within your property. We can remove undamaged items and work to repair structural damage left behind by high waters.
You can also count on 911 Restoration of Northern Virginia to handle mold removal. Water damage and muggy weather can increase the chances of a mold problem. We provide mold inspections for your commercial property, so you can get an immediate assessment regarding the severity of the mold's spread. We work with a third-party laboratory to find out exactly what kind of mold you have, and then we provide full mold remediation services.
We know that mold can spread quickly off of walls and floors and into cardboard, furniture, and other items. That's why we will hurry into action to take care of mold removal. You shouldn't have to worry about further damage to your property. Let us handle mold removal right away so you can get back to business as usual.
Our team can even handle sewage cleanup. Large commercial properties can suffer severely from a sewer backup. We work with the goal of completely removing any sign that a sewage emergency ever occurred.
We Can Take Care of Fire Damage Restoration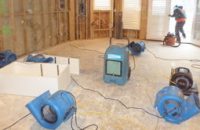 One stray spark can start a fire. The flames and heat from a fire can rage through buildings, leaving behind damage. Fire suppression systems can cause additional water damage to a property, even as they put out the flames. We can take on any and all forms of damage associated with a fire to get your property back into sterling condition.
We understand that fire damage often requires a complete property restoration. We will clean up fire damage with professional methods, including sodablasting. Our team will take care of all surfaces in your property. We also pack out and store any of your belongings that were not damaged by the fire.
911 Restoration of Northern Virginia knows that it's important that your commercial property be returned to good condition promptly. We will get to work right away and we offer all of our clients smoke, soot, and odor removal.
Our team handles both large and small instances of fire damage. We can even take care of puff back damage associated with furnace use in the colder months of the year. We will remove all traces of soot from your property. Let us take care of any of your disaster restoration needs to return your life to normal.