Disaster Restoration Northern Virginia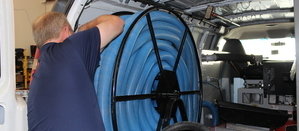 Solving all of the extraneous variables involved in a catastrophe scenario is difficult work and it requires skilled disaster cleanup contractors in Northern Virginia like ours with 911 Restoration Northern Virginia to be done properly and safely.
Our technicians know from a long history of experience in the industry that the most productive way to limit the amount of damage that a disaster can cause is by being at the site of the crisis quickly.
This means our specialists will arrive within 45 minutes of your call so that we can immediately begin emergency restorative actions for you and your property.
Beyond our capacity to be at the site quickly, we also make sure to bring nothing but the latest drying technology and industrialized suction equipment to all the work we do.
We're available 24/7/365 at 571-367-0646. So if your home or business is already dealing with the aftermath of a structure crisis, then don't wait another minute to get in touch with our disaster restoration team at 911 Restoration Northern Virginia today.
Preventing and Avoiding Disasters
When disasters take place, our specialists are usually the first call that most people make in order to fix and repair them, but our experts are also regularly tapped for their capacity to help people prevent disaster scenarios too.
Here are some helpful ways to prevent disasters:
Clean out your gutters at least once every year or so to make sure that they won't clog and form ice dams when inundated with winter weather.
Trim the trees and bushes around your home or office so that if there is a severe storm, the dead limbs won't be a flying missile that can impale your roof or siding and introduce water damage to the interior.
Let a restoration professional inspect your property so that if there are any small issues, they can be taken care of before weather or time makes them more complicated and more expensive to solve.
Never let the temperature of your home dip too low in the winter, or you may run the risk of having a pipe burst scenario on your hands. Keep things above freezing to stay safe.
Run your sump pumps at least once a season to make sure that they are working properly and fully capable of ejecting any excess water that accumulates near your foundation.
Don't let your home suffer from the effects of a catastrophe without first getting assistance from the best in the industry. Contact our IICRC certified disaster restoration team with 911 Restoration Northern Virginia for 911 Restoration complaints! Call us at 571-367-0646 and please allow us to offer you a free visual inspection.
The Process of Restoring Property After Snow Storms and Other Disasters, Explained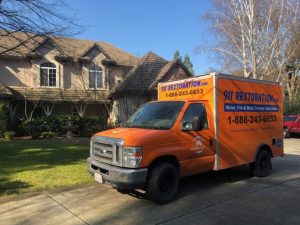 Our specialists at 911 Restoration of Northern Virginia are prepared to mitigate any damage done by the wide range of natural disaster cleanup companies that are likely to hit Northern Virginia.
We know how destructive a disaster can be on a property and how stressful disasters can be for property owners. Our goal is to always put the customer first in these scenarios.
Making sure that our clients are taken care of is a huge priority for us, so we walk all our clients through every aspect of the high quality work that we do in order to avoid confusion and answer any questions.
In fact, we make a point of always trying to fill out the paperwork for our clients so they aren't overwhelmed by filing insurance claims while trying to get their life back together.
We are totally dedicated to professionalism, and that allows us to give our clients the most complete restoration experience at a truly affordable price.
If your home or business has recently been through a crisis, then be sure to get in touch with our disaster restoration team at 911 Restoration Northern Virginia today. Call water and fire restoration Fredericksburg VA at 571-367-0646 and learn how we can help
Serving the communities of Woodbridge, Aylett, Stafford, Fredericksburg, King George, Dumfries, Glen Allen, Triangle, Woodford, Henrico, Quantico, Mechanicsville, Occoquan, Ashland, Richmond City County, Prince William County, Stafford County, Spotsylvania and surrounding areas.