Fire and Smoke Damage Restoration Northern Virginia
Seldom is there an event in a home or business that is catastrophic as a fire outbreak, and that is why our fire and smoke damage restoration Woodbridge experts with 911 Restoration Northern Virginia are always ready to take up the challenge and help you put the pieces of your life back together again.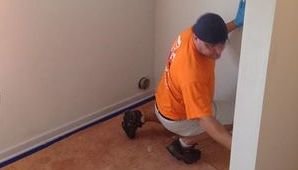 Our specialists know that the most profoundly effective way to mitigate the losses experienced during a fire episode is to be at the scene quickly and prepared for anything.
In our ongoing efforts to always put the customer first, we make sure to arrive within 45 minutes of every emergency call that we get so we can begin work fast.
Beyond our ability to show up prepared and quickly, we are also available 24/7/365 for anything that might flare up, at any time.
Our technicians are also highly skilled in using the most advanced technology for abating the smoke odors that result in a fire situation too.
If your property has recently undergone a fire exposure event, then be sure to take advantage of our fire and smoke damage restoration Woodbridge team with 911 Restoration Northern Virginia for help today!
Preventing Fire And Smoke Damage And Flare Up Incidents
When a fire occurs, our technicians with the training, skills, and strategies are the first call that most people make to save them from crisis, but they are also regularly contacted for advice on how to prevent such catastrophes as well.
Here are some simple techniques to prevent fires:
Never place space heaters in areas that have flammable materials close by, and never place them on these materials either as this is a major cause of fire incidents.
Clean out your dryer ducting at least once every few years to prevent buildups that may cause a dryer fire. These are extremely common and easily preventable through some cleaning of lint.
If you do any repainting, or staining, never place the rags near a window when it is sunny out as this may cause the temperature of the rag to spontaneously combust.
Keep a fire extinguisher under the kitchen sink, and in any other locations around the house that might be prone to a fire outbreak.
Never try to put out a grease fire with water as this will only exacerbate the problem and possibly spread the fire further.
These are some of the more common ways that homes and businesses are affected by fire, and how to prevent them, but this is not a total list. So if you have questions unaddressed here, then be sure to give us a call to provide more information and tips.
Specifics Of Fire And Smoke Damage Elimination Work
Fire and smoke incidents are one of the most devastating catastrophes that can occur to people and their homes or businesses, but with our help, you will be back on track in no time.

Our technicians make sure to take complete and total care of our customers whenever there is a smoke or blazing incident.
We make sure to always put the customer first with every aspect of every job that we do because we know how stressful these times can be fore people and businesses.
In order to provide our clients with the most comprehensive attention, we will even fill our all of the insurance paperwork for our customers so they don't have that to take on as well.
We are dedicated to professionalism, and to achieve a higher standard, we like to walk our customers through every aspect of the restoration process so they are connected to their home as much as ever.
If your home has recently been through a flare up incident, then don't wait another minute to contact our fire and smoke damage restoration Woodbridge team with 911 Restoration Northern Virginia today!