Benefits of Board-Up Services For Disaster Restoration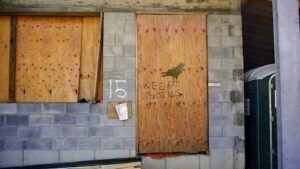 Whether you just had to deal with fire and smoke damage, flooding, vandalism, or other natural disaster restoration, your property may be vulnerable to vagrants, animals, thieves, and the environment in general. You will always need to be alert to make sure you are safe from further damage, which can be stressful. 
This is one of the primary reasons why you may need our board-up services. While you focus on the restoration process, board-up services help you maintain the integrity of your property when the walls and fences aren't able to keep up.
Board-up services help you close windows, wall damage, floor, and even the roof, hence ensuring your and your family's safety in the process. Whether you are living inside the house or leaving till the restoration work gets completed, there are a number of benefits that board-up services offer during disaster restoration. 
In this article, we will take a closer look at these benefits, along with helping you understand how board up services help before and during disaster restoration,
Benefits of Board Up Services – An Overview
One of the biggest advantages offered by board-up services during and after an emergency or natural disaster is the safety and security of your home or office. There are a number of board-up options available, with the primary difference being how thick the wood needs to be. 
It is a common misconception that you need to purchase the wood used to secure your windows, doors, and other openings in your property's boundary. While there are options that allow you to purchase the wood panels, many board-up services, such as the 911 Restoration board-up, allow you to rent the panels. 
You need to look for licensed and professional board-up services that know your neighborhood and circumstances and can offer solutions respectively for the ultimate peace of mind. 
A Peek At Board Up Services – What Are They?
Emergency board-up is the process of covering broken windows, damaged walls, and other openings into your property that will take time to get rectified. For example, if a wall comes down during a storm, flood, earthquake, or other natural disasters, your home may be exposed to the environment and the people outside. 
Rebuilding the wall may take a while, especially if the storm or flood is yet to pass. Emergency board-up services are geared towards covering damaged windows, doors, and other openings with plywood. The reason why we use plywood is to make sure the board up remains cost-effective. 
The time it takes for the disaster to pass, for you to get around to addressing the issue, or for the disaster restoration and construction crews to complete work on mitigation, these plywood panels keep you and your property safe from the world outside. 
Emergency Board Up Services – What is Roof Board Up?
During storms, roof integrity may get compromised and may result in leakage. In other instances, there may be a large hole in your roof through which large debris may fall. This is where the roof covering and board-up services come into play. 
There are two options here:
Board up the damaged area with plywood or 

Cover it up with a tarp
Placing a tarp on your roof is much more cost-effective but can be loud and may not be as sturdy a solution. The tarp's goal is to prevent water leakage until the storm passes and you can get your roof fixed properly. Tarps may not be able to keep larger debris out. 
Boarding it with plywood, on the other hand, help you keep large debris out as well as water, insects, wind, and other external environmental factors. 
A hidden benefit that board-up services offer, which many fail to realize, is that it helps you ensure that you get a better settlement via insurance providers. Insurance carriers often pay only for the damage done by a specific disaster, provided that you take the steps necessary to mitigate further damage. You need to remain vigilant on your part.
For many, it often comes as a surprise when they are unable to get the full settlement amount because they didn't know that a board-up and roof covering service is a necessity for insurance protection. If other items do get damaged after the first disaster, insurance providers can reduce how much they pay you for 'negligence.' 
What To Expect From Board Up Services By 911 Restoration
911 Restoration is dedicated to helping you mitigate the damage and costs you have to deal with from disasters. We offer all sorts of residential and commercial restoration services. Having served countless disaster victims over the years, you have expected that our extensive experience will play a vital role in ensuring that you get the best possible service in your time of need. 
We have a 45-minute emergency promise that helps you mitigate further damage – and we come prepared for anything. When performing any service, we also adopt an insurance-friendly approach, i.e., to ensure that you get a favorable settlement once the adjuster visits.
If you would like to experience how 911 Restoration of Norther Virginia helps you get back to your normal lives quickly and offers disaster restoration on your terms, give us a quick call. We'd love to help you out when you need us most!
If you are experiencing residential water damage or commercial property damage. Call one of our IICRC certified specialists today.