Water Damage And Mold Removal in Occoquan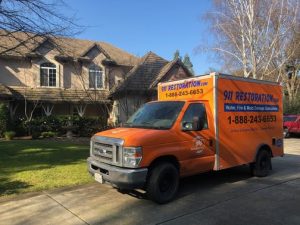 Occoquan is a beautiful place to live. Between the natural beauty and local history, life doesn't get much better. But life on the river comes with its downsides—namely, the high risk of water damage local property owners face. Sometimes it's basement flooding due to heavy rains. Sometimes it's a run-of-the-mill pipe burst. Or maybe the hot, muggy summer climate has led to a suspicious growth on your walls and you need a professional mold inspection.
No matter what your water damage restoration or mold removal needs are, you always have an ally in 911 Restoration of Northern Virginia.
Our flood cleanup and mold remediation staff have seen every type of property disaster imaginable. Whether you need water damage restoration for a residential or commercial property, the flood cleanup crew at 911 Restoration are on it. They are IICRC certified and each and every worker has been trained to repair any type of damage—roof damage, mold in carpet, rotted drywall, you name it.
Most water damage incidents are full-blown emergencies, and you can expect these technicians to respond with the urgency your situation deserves. Call any time, day or night, any day of the year, and expect a flood cleanup crew at your property in 45 minutes or less.
If you need water damage restoration in Occoquan, you may be feeling overwhelmed. Let 911 Restoration of Northern Virginia put your mind at ease with prompt, expert service.
Commercial And Residential Water Damage Cleaning In Occoquan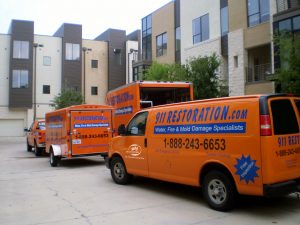 Water damage comes in many forms. One thing that's constant, however, is the potential for serious damage. If you're a homeowner, you depend on immediate water damage restoration to minimize structural damage and ensure the safety of your family and pets. If you own a commercial property, you have additional worries, such as client safety or lost business hours while you wait for flood cleanup to be completed.
911 Restoration of Northern Virginia treats all water damage restoration like the emergency it is, whether your property is residential or commercial. You can always expect an immediate response and emergency flood cleanup services including water extraction, sewage removal, boarding up, storm repair, and leak detection.
The water damage restoration technicians take every measure to fully restore your property after a pipe burst or other damage. This means completely drying and dehumidifying the area, sanitizing after a sewage backup, and repairing any destroyed structure.
They also complete the process with a thorough mold inspection. In the wake of a water damage incident, your property is at increased risk of developing mold on walls, in your basement, or any other surface that might be holding onto moisture. The flood cleanup technicians are certified in mold inspection and mold removal. They know that without prompt mold remediation, organic materials in your property such as wood and wallpaper can easily be destroyed by the infestation. Mold removal is also essential for guarding all humans and pets against the health risks of toxic mold.
From pipe bursts to basement flooding, water damage restoration to mold removal in Occoquan, 911 Restoration of Northern Virginia is your best bet for compassionate, professional service. Call now, and dedicated flood cleanup technicians will be there in 45 minutes or less.
Will Homeowners Cover Water Damage Restoration?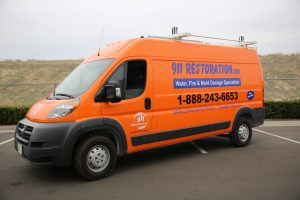 Which water damage restoration services does your insurance cover? Roof repair? Water extraction after a pipe burst? Mold inspection? What about mold remediation?
Because the process of flood cleanup can involve a variety of services, many home and business owners are a little fuzzy on what is and is not covered by their provider. Insurance can be complicated as it is, but throw the anxiety of water damage into the mix, and it's only natural to find your head spinning.
The water damage restoration staff at 911 Restoration is happy to help with a free insurance consultation. You'll get total clarity on which benefits you are entitled to, from leak repair to mold decontamination. They also assist with loss itemization and file your claim for you so you don't have to give it a second thought.
The flood cleanup and mold remediation workers at 911 Restoration are all about helping you put this disaster behind you as quickly as possible. They want to eliminate stress and show you the joy of a Fresh Start with a newly restored, better-than-ever home or business.
Whether you need mold inspection in Occoquan or water removal in a nearby community, let 911 Restoration be your go-to. For caring, comprehensive water damage restoration, call us today.
Servicing the cities of Ashland, Aylett, Bowling Green, Crozier, Doswell, Dumfries, Fredericksburg, Glen Allen, Hanover, Henrico, King George, Manakin Sabot, Mechanicsville, Midlothian, Milford, Occoquan, Prince William County, Port Royal, Quantico, Rappahannock Academy, Richmond City County, Ruther Glen, Spotsylvania, Stafford, Stafford County, Triangle, Woodbridge, Woodford, and surrounding areas.