Water Damage And Mold Removal In Quantico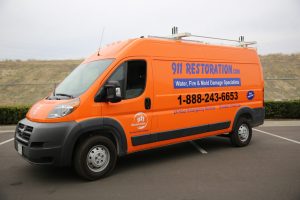 From winter ice dams to storm flooding to mold contamination in the hot, muggy summer season, properties in Northern Virginia are never safe from the threat of water damage. Fortunately, any property owner in need of prompt, expert water damage restoration in Quantico can call on 911 Restoration of Northern Virginia.
Our water damage restoration technicians are IICRC certified and highly trained to handle everything from pipe bursts to mold remediation. They're also on-call 24/7/365. This means no matter when you call, a flood cleanup crew is guaranteed to be on the scene in 45 minutes or less.
Worried about the expense? Wondering if homeowners will cover water damage and mold inspection? Don't sweat it. With 911 Restoration, you don't even have to navigate property insurance on your own. Friendly water damage restoration staff offer a free insurance consultation, explaining the ins and outs of your specific coverage. They assist with inventory and loss itemization, they file your claim for you, and they even bill your provider directly, so you don't have to give insurance paperwork a second thought.
For the flood cleanup technicians, water damage restoration and mold removal in Quantico isn't just a job. It's an opportunity to serve their neighbors and play a role in fortifying a community. At 911 Restoration, we believe every disaster provides the option to rebuild better and stronger than ever.
A pipe burst or basement flood can be massively overwhelming, whether it happens in the home you've worked so hard to build or the business that represents years of diligent commitment. Rest assured that 911 Restoration of Northern Virginia can deliver a Fresh Start. Call today and let us turn this disaster into a new beginning.
Emergency Flood Cleanup In Quantico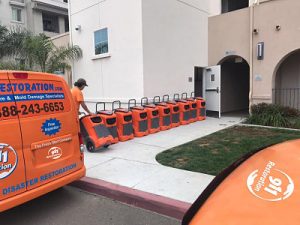 There is no time to waste when it comes to water damage restoration. Even seemingly-invincible concrete is vulnerable to long-term effects of property flooding. Concrete absorbs water deep within, and without thorough professional drying, that absorbed water can resurface and cause mold growth later on down the road.
The water damage restoration crew at 911 Restoration know there is no such thing as harmless water. They respond to your water damage emergency immediately and work quickly on the scene to minimize your damages. They don't waste a moment in extracting water, drying and dehumidifying the area, and repairing structural damages. Their emergency services even include boarding up, storm repair, roof repair, and packing out belongings that might be in harm's way.
If it appears your water damage restoration needs are extensive, don't worry. 911 Restoration is far more than a water removal service. The flood cleanup crew is trained to handle full property restoration so you don't have to waste extra time and money hiring additional contractors for structural repairs and mold inspection. Destroyed flooring? Contaminated carpet? Damaged roof? Rotted drywall? No matter what you need repaired, our water damage restoration technicians know how to fix it.
They even conclude each job with extensive mold inspection and mold remediation to make sure your home or business is safe from long term damages.
Every flood cleanup specialists who sets foot on your property arrives with the goal of leaving your place in better-than-new condition. You can expect that all water will be removed, all damages repaired, and any threat of mold eliminated.
For fast service and real peace of mind, contact 911 Restoration of Northern Virginia.
Local Mold Removal Experts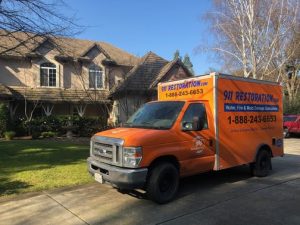 In a hot, muggy climate like this one, incidents like pipe bursts frequently give rise to indoor mold. Even if you haven't endured a water damage incident, there is always moisture in the air for this river town, and with it comes a high probability of developing mold in your home or business.
The water damage restoration experts at 911 Restoration of Northern Virginia are also certified in mold inspection and mold removal. They know how to track down mold in the dark spaces where it thrives. Just as important, they know how to handle mold removal with the utmost caution. The process of mold decontamination is more delicate than you might expect, as a disrupted colony is inclined to release toxins and spores that spread more mold throughout the property.
The mold remediation experts know how to conduct mold decontamination without posing a risk to you, your family, your pets, or your customers. They also use professional drying tools to fully dehumidify the structures where mold was discover. This ensures the same surface is no longer hospitable to mold spores, hopefully preventing the need for further mold remediation in the near future.
As you can tell, 911 Restoration of Northern Virginia is a water damage restoration company that emphasizes comprehensive service. The flood cleanup workers leave no stone unturned when it comes to restoring your property.
If you're ready to put today's water damage incident firmly in your past, call 911 Restoration of Northern Virginia.
Servicing the cities of Ashland, Aylett, Bowling Green, Crozier, Doswell, Dumfries, Fredericksburg, Glen Allen, Hanover, Henrico, King George, Manakin Sabot, Mechanicsville, Midlothian, Milford, Occoquan, Prince William County, Port Royal, Quantico, Rappahannock Academy, Richmond City County, Ruther Glen, Spotsylvania, Stafford, Stafford County, Triangle, Woodbridge, Woodford, and surrounding areas.